Modular by Design. Flat Pack For Convienience
Flat Pack Modular Shipping Container Building Kits. Save on shipping costs. (Eight flat pack complete kits will fit in to one 40 ft standard shipping container. Four kits will fit into one 20ft standard shipping container)
Our modular flat pack buildings have been designed with a practical approach to effective ergonomics and rapid deployment in to the field. Our building solutions are used for a number of different industries with a wide variety of uses including site offices, office parks, mining camps, medical clinics and much more. Our solutions are safe, secure and fully transportable to anywhere in the African Continent. The buildings arrive ready to build immediately. The units are built in a controlled factory environment, this allows us to ensure quality control of stock, produce identical buildings every time, offer warranties as well as being able to accurately predict the useful lifespan of your project.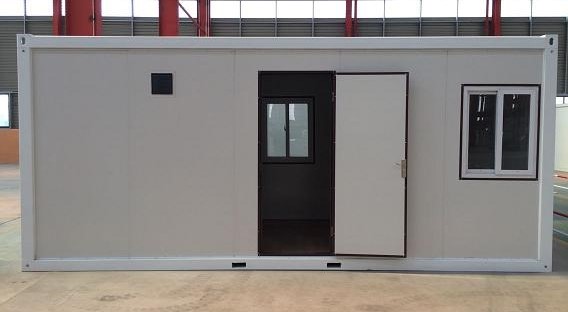 Available in "ready to ship" 4 Pack
Complete kit including electrics, insulated walls, windows and flooring
Join them together in to different configurations
Easy to Build, minimum skill them, build again later
Move them around with fork lift
Highly suitable for mining camps, remote offices and temporary structures.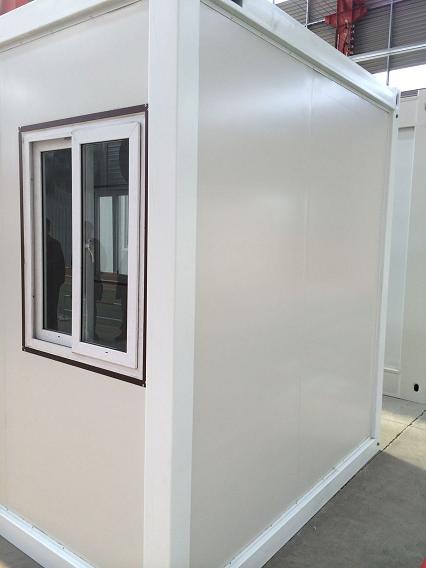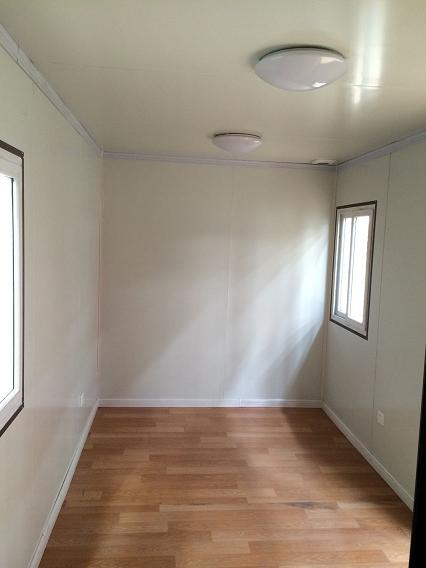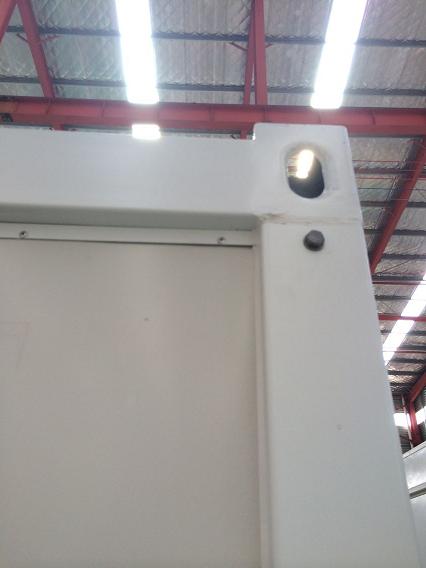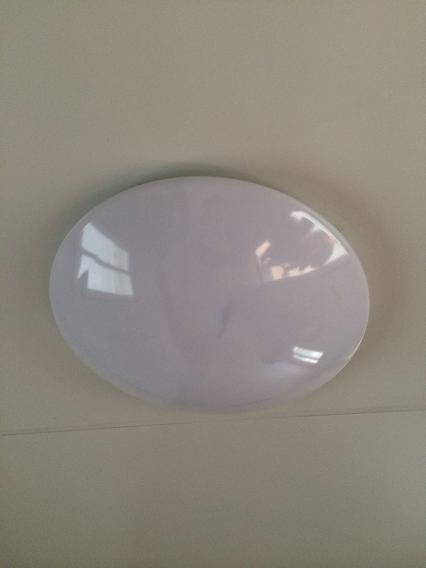 8 X units will fit in to 1 X 12M Container. 4 X units will fit in to 1 X 6M Container.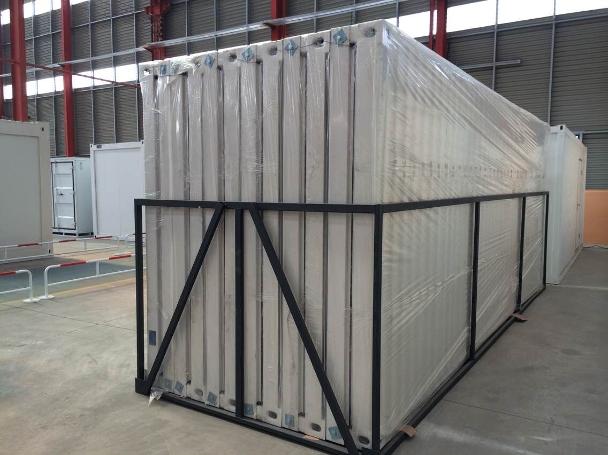 Product code: SPFLATP6M4/8A
Frame: Cold formed steel, galvanised, epoxy coated.
Windows: 2 x 1000*800mm Plastic coated steel/aluminium.
Door: 1 x 2000*800mm EPS 50mm panel and fittings.
Walls, insulation, roof: Interchangeable 50mm EPS sandwich panels.
Transportation: Shipped as 4 (6m container) or 8 pack (12m container).
Compliance & certification: All fittings, fixtures and components comply with SABS, ISO or Euro equivalent certification.
Size of each unit: 5800*2300*2591
Transport fittings: ISO 1161 Corner casts. Also can be maneuvered with fork lift when assembled.
Flooring: 18mm Plywood base with PVC/ vinyl covering.
Electrics: Distribution board, 2 x lights, switches, 4 x plug sockets (RSA or Euro), wiring.
Rainwater discharge: Built in to framework.
Ordering & timescales: 1 – 6 weeks subject to stock & delivery location.


Popular Questions & Answers
Can your flat pack modular buildings be modified to meet my exact requirements? - Yes, in addition to our standard range of "off the shelf" designs, our buildings can be modified at the factory. We are happy to assist with your individual specifications.
How long does delivery take? - From placing an order we will deliver your portable buildings. Turnkey designs may be available immediately depending on stock.
What guarantees and certificates do your flat pack container buildings come with? - Our buildings are fully guaranteed for quality workmanship, insured during transit and are fitted with SABS, CE or ISO registered components and fittings to ensure compliance to both local and International standards.
What Countries can you deliver to? - Our flat pack container buildings can be delivered to South Africa, Europe, Russia, Nigeria, Malawi, Zimbabwe, Angola, Ethiopia, Mozambique, Democratic Republic of Congo, Botswana, Namibia, Rwanda, Madagascar, Sierra Leone, Somali, Kenya, Tanzania & Chad.
Technical
Flammability Class: B1, Hardly combustible. Wind Load: Tested to 25 m/s (90 km/h). Weight: 1850 Kg Per single unit. (Depends on options). Smoke Density Class: Q1, Low smoke emissions. Connectors: Standard Fittings.


Disclaimer

: The information contained in this website is for general information purposes only. The information is provided by Structure Now Pty Ltd and while we endeavour to keep the information up to date and correct, we make no representations or warranties of any kind, express or implied, about the completeness, accuracy, reliability, suitability or availability with respect to the website or the information, products, services, or related graphics contained on the website for any purpose. Any reliance you place on such information is therefore strictly at your own risk. In no event will we be liable for any loss or damage including without limitation, indirect or consequential loss or damage, or any loss or damage whatsoever arising from loss of data or profits arising out of, or in connection with, the use of this website. Structure Now Pty Ltd is a company registered in South Africa that has valid Clearance as well as Import/Export authority for the solutions we provide. Our solutions are available in all parts of the African Continent.